hotels and apartments
sport and leisure
localities
information

Your search
Scena / Schenna: Hotels, B&B, Residence and holiday apartments
The Wellenzohn family welcomes you to the Guest House Gartenheim in Scena, near Merano, in the splendid Alpine region of South Tyrol. The house offers you breathtaking views of the town of Merano and its surroundings and has hosted guests during their holiday in Scena since 1957.
deals
01/04 - 15/04/2023

from 343€ per week

16/04 - 17/06/2023

from 350€ per week

01/07 - 14/10/2023

from 59€ per night

15/10 - 04/11/2023

from 367€ per week
Characteristics
Far from the bustle and noise of the city, the Alpine Hotel Taser is a fantastic hotel for families. The innovative concept of the Taser Alpine Hotel is based on the combination of authentic nature and exclusive services, which offer families an unforgettable experience.
deals
15/04 - 29/04/2023

from 660€ per week

29/04 - 06/05/2023

from 660€ per week

06/05 - 13/05/2023

from 660€ per week

10/06 - 24/06/2023

from 816€ per week

09/09 - 23/09/2023

from 768€ per week

23/09 - 30/09/2023

from 768€ per week
Characteristics
Perfectly situated in a panoramic location above the rooftops of Merano and with a fantastic view of the surrounding mountains, Verdinser Hof, 4 star S Hotel in Schenna Merano awaits you. Make yourself feel at home from day one of your holiday and unwind.
deals
18/03 - 31/03/2023

from 750€ for 4 nights

18/03 - 05/11/2023

from 1005€ per week

18/03 - 05/11/2023

from 669€ for 4 nights

18/03 - 05/11/2023

from 565€ for 3 nights
Characteristics
The B&B Gasserhof is a paradise for your holidays, with spectacular views of the valley and the mountains surrounding Merano! The Gasserhof is located in a very panoramic area of Verdines, near Schenna. Not far from Merano the Gasserhof offers a breathtaking view of the Merano.
Welcome in Schenna (Scena), in South Tyrol! Spend your wonderful holiday in the fruit-farm Lothhof in Schenna (Scena). The farm is located in a quiet and idillic location from where you can enjoy a breathtaking view of Merano and surroundings.
deals
26/03 - 31/03/2023

60€ per night
Characteristics
Centrally located and yet in the middle of a wonderful oasis of peace. As if made for your holiday in South Tyrol, in the heart of Schenna and all around a varied holiday offer! Spend your holiday in beautiful rooms, spacious and very comfortably equipped.
The farmhouse is located at an altitude of 1450m, in a quite and sunny position surrounded by meadows. Directly from the farm you can walk into the beautiful Hirzer region, where many pastures and great hiking tours await you.
Welcome to the Haus Hohenrain! For more than 30 years, this family business has existed in the district of St. Georgen in Schenna near Merano and and for just as long it is the concern to make your most beautiful days of the year as pleasant as possible.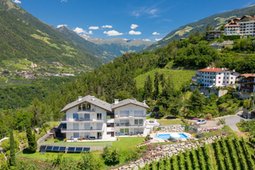 Residence Fiegl is situated on the mountain side at about 600 meters above the sea level, with uninterrupted panoramic views over the town of Meran, the Passer Valley and the surrounding mountains.
The Prairerhof located on the sunny terrace high above Scenna of Meran. Scena lies at 600 meters above sea level on the sunny hills above Meran (South Tyrol), surrounded by vineyards and orchards.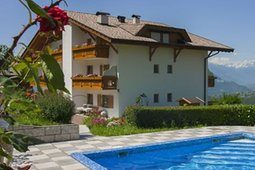 Spend nice and relaxing holidays in an informal and pleasant atmosphere. The hotel is very quiet and offers panoramic views. Surrounded by meadows and forests, without transit traffic, it is the perfect place for you to relax.
The Hotel Tannerhof in Schenna, above Meran, welcomes you! In the cozy Hotel Tannerhof in Schenna with à la Carte Restaurant, personal attention is a priority. In the rooms and apartments you will enjoy your holiday in a family atmosphere, combined with comfort and cosiness.