Merano / Meran and surroundings, South Tyrol

Your search
Lana: Hotels, B&B, Residence and holiday apartments
Welcome to the Residence Falgerhof. The house has 5 cozy apartments ready for you. The residence is located in an ideal starting point for various hikes, mountain and bike tours. Motorcyclists are also welcome.
Gargazzone / Gargazon (Lana)
The farmhouse Sandwiesenhof lies in the heart of South Tyrol in the middle of apple orchards and offers a beautiful panoramic view on the surrounding mountains. You can take advantage of its sunny and tranquil position to relax...
Spend the most amazing days of your year at the hotel Weihergut, located in a sunny position just outside the village of Cermes. The warm hospitality, the various range of amenities and a careful but familiar service are the reasons why most guests decide to come back here.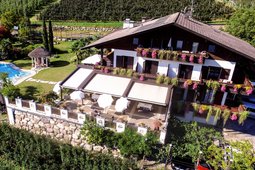 Are you looking for the perfect place to spend a refreshing springtime break, share exhilarating moments during autumn hikes along breathtaking mountain routes, or even experience the glowing magic of Christmas in winter? Then the Valtnaungut is the place you were looking for!
The Panorama Garni Hotel Bühlerhof in Lana will charm you with its fantastic panoramic view on the mountains around Merano. The hotel is situated in the middle of apple orchards, only a 10-minute walk from the centre of Lana.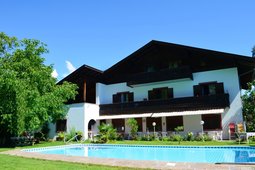 The house is located in Lana di Sotto at 290 metres above the sea level and was built in 1977 in the typical Tyrolean style. It is surrounded by greenery, by beautiful vineyards and apple orchards and situated just a few minutes from the centre of the village.
Take a break from the everyday life and relax. All the interiors are furnished in the exclusive country house style and with great attention to every detail. Forget the daily stress and take some time for yourself.
offers
12/10 - 25/10/2019

from 435€ per week
Characteristics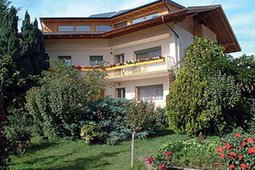 The Apartments Haus Lochmann are located near the center of Lana, in a sunny and quiet location surrounded by orchards. The house is the ideal starting point for short walks, long hikes in the mountains and beautiful bike rides.
The house is situated in Foiana, a nice village at 700m above the sea level, immersed in orchards, meadows and forests. Thanks to the ideal position the house is a perfect starting point for excursions and trips to Meran, the Dolomites and the Lake Garda.
The hotel is situated in the quiet village of Cermes, not far from Merano, one of the most famous tourist resorts in South Tyrol. Surrounded by vineyards, orchards and cultivated hills, Hotel Löwenwirt welcomes its guests in a wonderful setting.