hotels and apartments
sport and leisure
localities
information

Your search
Lagundo / Algund: Hotels, B&B, Residence and holiday apartments
The romantic FAYN garden retreat hotel is hidden in the scented orchards of the area between Algund and the spa town of Meran. Situated in a sunny position and featuring a wonderful view of the region, it is the ideal place for those looking for quietness and harmony.
Are you looking for relaxation, nature, sun, hiking, swimming on the doorstep of Meran? The Wiesenhof is the right place for you. A family-run top address with a magnificent view in the midst of greenery, a stylish ambiance and fine, light cuisine: a hot tip for gourmets.
deals
11/06 - 09/07/2022

from 826€ per week

09/07 - 20/08/2022

from 826€ per week

09/07 - 20/08/2022

from 140€ per night

20/08 - 27/08/2022

from 812€ per week

27/08 - 09/10/2022

from 882€ per week

09/10 - 22/10/2022

from 826€ per week

22/10 - 29/10/2022

from 738€ per week

01/11 - 13/11/2022

123€ per night
Characteristics
The Gapphof farmhouse, wonderfully located in Algund, near Meran, and surrounded by apple orchards, represents the ideal place for a relaxing and enjoyable holiday.
The Residence St. Hippolyt is a small jewel in the picturesque and sunny village of Algund about 400 m above sea level, surrounded by orchards and vineyards and situated near the famous Waalweg walk.
Blummerhof is a farm situated in a very quiet part of Algund in the Meran area, in the middle of abundant orchards. From here you can check out by foot all the romantic walks and footpaths. The apartments are spacious and comfortable.
The farm Oberhebsacker Hof is situated in the locality of Plars and offers a beautiful view of Merano and the famous Castle Tyrol. In the garden of the farm Oberhebsackerhof you can relax and sunbathe while munching a crispy, juicy apple.
Welcome to the small hotel Seppmair, your holiday-home with panoramic view! Far away from the hustle and bustle of the everyday life the bed and breakfast hotel Seppmair is located in Oberplars/Algund, in a very sunny and calm position and surrounded by vineyards.
In Merano you will spend a wonderful holiday in South Tyrol. In the small bed and breakfast in Oberplars / Algund you can enjoy a magnificent view of the Merano region and spend a carefree holiday that is entirely tailored on your needs.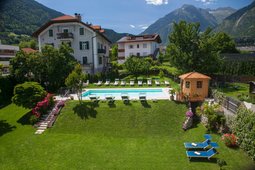 Welcome to Hotel Al Cervo! The facility is located in Lagundo, Meran, barely 2 km from the centre of the renowned spa town. Here you can enjoy the silence on the lawn with swimming pool, while your children have fun on the private playground.